Prince Edward Yacht Club
LEARN TO SAIL PROGRAM
General Info: Learn to Sail Program
The Learn to Sail program gives students between age ten and eighteen an opportunity to learn how to sail and have a great summer while enjoying their time on the water.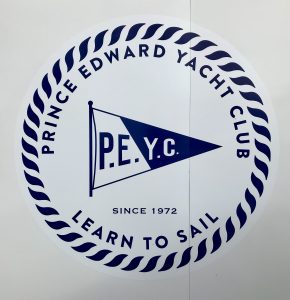 This sailing program is run by Prince Edward Yacht Club. The sailing camp is located at the Waupoos Marina about a 15 minute drive from Picton. Waupoos Marina is an ideal and spacious setting for learning to sail with clear water in a protected area to the open lake.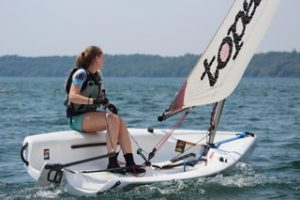 At the PEYC Learn to Sail Program sailors will learn boat handling, sailing skills, safety on the water, knot tying, boat terminology as well as rigging techniques! Our boats range from beginner Topper Topazes, RS Zests to more advanced 420's and Lasers.
We run the camp for 7 weeks in the summer, four weeks in July and three weeks in August. Please note the camp will run on civic holidays (Canada Day and the August long weekend). To contact our Learn to Sail Program please email  sailprogram@peyc.ca

CanSail Program: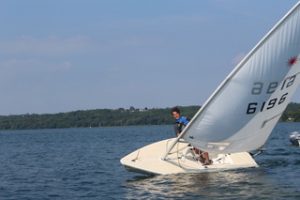 We offer the CanSail program with levels 1/2 and 3/4.
CanSail 1: Fundamental information on sailing, students will learn the basics and get an understanding of crewing a boat as well as some skippering experience. (it will require a minimum of 2 weeks to complete all the required elements of this course)
CanSail 2: Continuing to build on the basics of sailing as well as improving skippering and problem solving.(it will require a minimum of 2 weeks to complete the required elements of this course)
CanSail 3: Is a comprehensive course and is designed for intermediate to advanced level sailors, who have completed their CANSail 2.  A higher level of sailing, Students will be skippering and they will start to learn about race tactics, roll tacks, the physics of sailing and wind vectors. (It will take a minimum of four weeks to accomplish the demonstration of the advanced  sailing techniques)
CanSail 4: Is the highest level of the CanSail program that  we offer and it focuses on introducing sailors to more advanced sailing techniques. This level will expand on  concepts of CanSail 3 but to a more consistent level.  (It will take a minimum of four weeks to accomplish the demonstration of the advanced  sailing techniques.)
To learn more about the CANSail levels  please visit the Sail Canada website here  CANSail Dinghy
The price per week is $378.00. Yacht Club members receive a 10% discount. We encourage the students to attend the camp for a two week training session . This will allow them a  better opportunity to succeed at achieving their levels, but it is not a  requirement.
Cansail Sessions for 2023 (Program operates from 9am until 4pm)
Session 1 – July 03-07
Session 2 – July 10-14
Session 3 – July 17-21.
Session 4 – July 24-28
Session 5 – July 31- Aug 04
Session 6 – August 07-11
Session  7 – August 14 – 18
There will be weekly Friday BBQ's for Awards and Presentations of Certificates
Camp set up: June 27 – July 01
Camp closing: August 22 – August 26
Ontario Trillium Foundation:              


PEYC Learn to Sail program had some exciting news in 2022. The PEYC Learn to Sail program was the recipient of the Ontario Trillium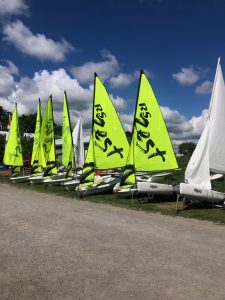 Foundation grant for 2022.  This grant assisedt us in providing new opportunities for our Sailing students. The Learn to Sail program continues to be held at the Waupoos Marina. With the new grant monies we purchased 6 brand new "RS Zest" dinghies, a new rescue/coach boat, and a brand-new trailer to act as the new 'Clubhouse'.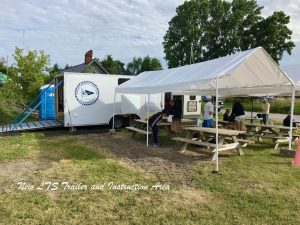 PEYC Learn to Sail Student Code of Conduct:
At the PEYC Learn to Sail Program we do not tolerate inappropriate or irresponsible behaviour from any of our sailors. We expect young sailors to show respect to their peers, instructors, equipment and the environment. Here is our student code of conduct that we ask all sailors and their parents to sign upon arrival at the camp.
Download Form Code of Conduct
How to Register:
You are able to register through Checklick here: ​Prince Edward Yacht Club -Learn To Sail
Need Assistance: We want to be able to provide every child with sailing experience and be able to enjoy a summer on the water regardless of their financial situation. The Camps of Hope in affiliation with The Children's Foundation pays the registration for families in need.
Please click on ​Camps of Hope​ for eligibility requirements and an online application form. To download a paper copy of the application form click here!     Please note: If you are applying through Camps of Hope you do not register on Checklick.
We also offer 10% off the registration fee for PEYC club members.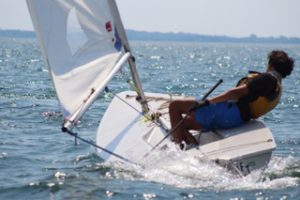 Lightning and storm protocol:
Should the sail camp on water activity be delayed due to severe weather the camp will continue with onland training and lessons. Our PEYC sailing instructors are qualified to make these decisions and assess the situation to avoid the risk and danger of sailing in high wind/ storms. The instructors access radar technology and also use their judgement with an emphasis on safety.
Concussion info and protocol:
At PEYC we take concussions very seriously and have been continuing to educate our students and their families on the seriousness of​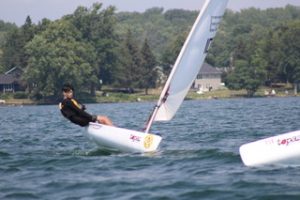 concussions. Here is some information on concussions from Ontario Sailing Concussion Information.​ Here is some more resources for info on concussions ​Mayo Clinic- Concussions.​ This is the official Sail Canada concussion protocol Concussion Protocol- Sail Canada​.  To help our sailors understand the importance of taking concussions and head injuries seriously we are requiring that students and their parents/ guardians sign an Ontario Sailing concussion code of conduct. For the document click here.
 What to bring to camp:
We require students to wear PFD's on the water at all times, personal flotation devices (PFD) must be Transport Canada approved. Also sailors must be able to swim comfortably wearing a flotation device and be able to tread water for 5 minutes. . Also we ask that students bring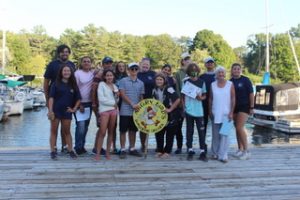 , lunches and snacks, sunscreen, a hat, ​closed toed shoes,​ a swimsuit and rainy/foul weather gear for colder and stormy days. A dry change of clothes and shoes would be a good idea so they are not going home wet.

Instructor/ volunteer Info
Meet our instructors! – Please stay tuned, further information coming soon!
Hi! My name is Lucy de Cartier, and I am thrilled to be the head instructor teaching CANSail 3/4 at PEYC. With five summers of instructing under my belt, I am eager to coach some of our more advanced sailors. I am 19 years old and studying  political science and history at McGill University in Montreal and I am also First Aid and CPR certified. Sailing has been a part of my life for as long as I can remember, having grown up at PYEC. I am passionate about passing on my love for this sport to the next generation, and I can't wait to share this summer with all of you!
Hi! My name is Max Tootle, I'm coming back for my second year as a CANSail ½ instructor and I couldn't be more excited. I am 17  years old and am in high school in Belleville. In the winter I teach skiing at Batawa ski hill and work as a lifeguard during the fall and spring. When I started sailing I was afraid at first then I completely fell in love with the sport. I have been looking forward to another great summer of sailing and can't wait to get started, see you soon!
Hi! My name is Emmett Goodwin and I will be your new CanSail 1/2 instructor this summer. I am going into grade 12 next year and I plan to pursue media arts in university. I really like history, media arts (film, graphic design, stuff like that,) and of course sailing. I have been sailing for 6 or 7 years now and I grew up learning at PEYC so it is extremely nice I get to teach the newcomers and hopefully pass down my enthusiasm about sailing. I really look forward to teaching and meeting all of you this summer!
How to become a volunteer:
At PEYC we are always very grateful for volunteer assistance to run the camp. The job of our volunteers is to help assist the instructors as well as support young sailors. To become a volunteer you must have completed your CanSail 4 and be accepted by the camp director. We do have a volunteer code of conduct to ensure proper practice in the program. All volunteers over the age of eighteen (18) require a Police Background check.
How to become an instructor:
Becoming a Sail Canada certified instructor is not an easy task and includes many steps but is very rewarding! Becoming an instructor means that you get to share your love of sailing with younger kids and the satisfaction of passing on your knowledge to others.
Prerequisites to becoming an instructor are CanSail 4 certification,your boat licence (PCOC), certification in first aid and CPR. The instructor must complete an Ontario Sailing fundamentals course, a coach boat safety course, LTSD online module and finally complete your CanSail 1/2 or 3/4 clinic.
To have a clearer understanding of the steps to becoming a sailing instructor here is the link to a flow chart created by Ontario Sailing. OS New Instructor Pathway
We look forward to seeing you in 2023!!